Whale Watching Spots in Newport Beach, CA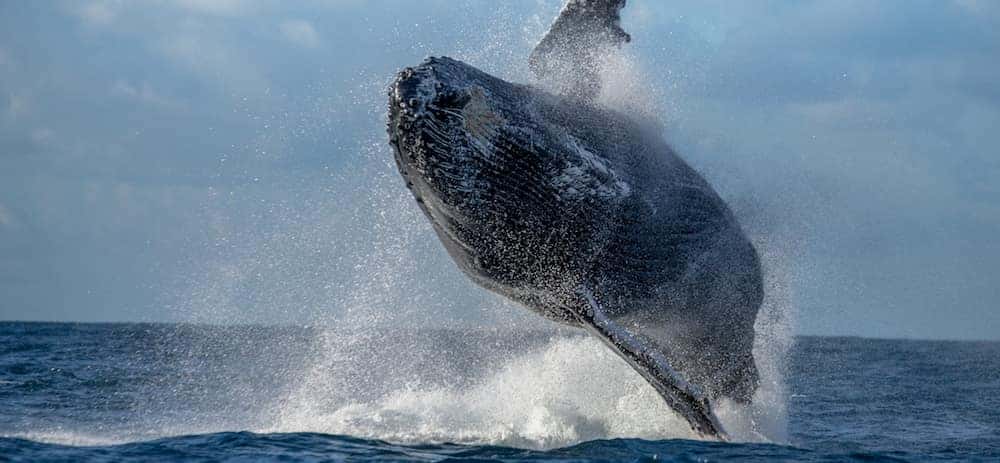 Whale watching is becoming the go-to family-friendly activity. Visiting the best whale watching spots in Newport Beach during the season gets you up close to large blue whales, finback whales, and gray whales in their natural habitat. The experience is nothing short of incredible. Whale watching takes place during two seasons:
Late spring, summer and fall (April – mid-December) – Humpback Whales, Blue Whales, and Dolphins.
Winter and early spring (mid-December – March) – Gray Whales and Dolphins.
If you're looking for whale watching spots near you, we have a list of the best whale watching spots in Newport Beach.
Newport Coastal Adventure
It's time to go on the ultimate whale watching trip with the highest-rated whale watching business in Newport Beach. Newport Coastal Adventure stands out among the rest, thanks to its custom-built 2018 Super RIB, onboard flat screen TV that displays live drone feed, and a faster speed that allows for more sightings and longer viewing times. Whale watchers will get so close to these beautiful mammals they can reach out their hands and touch them!
East Meets West Excursions Whale Watching
East Meets West Excursions is a five-star rated company that offers daily 2 to 2.5 hour kid-friendly trips for 2-6 people. Captain Nick's ultimate whale watching experience brings you up close to these mammals while they're in a migration path offshore.
Newport Landing Whale Watching
As one of the largest marine protected parks, you'll see all types of dolphins and whales the moment you leave the bay. Newport Landing Whale Watching visitors get the opportunity to experience the most incredible whale watching tours in the area
Davey's Locker
Whale Watching is fun for the entire family with Davey's Locker. A record-breaking 2,300 whales appeared here in 2017, and the excitement only continues this year. Whether you're going on a class trip or family vacation, Davey's Locker is a popular option for whale watching in Newport Beach. Thousands of whales get spotted along the breathtaking coastline, and this is your chance to see dolphins and whales up close.
Stop by Jaguar Newport Beach
Jaguar Newport Beach is the chosen luxury car dealership in the Costa Mesa area if you're looking for a bite to eat, looking to do a trade-in, or even need information on digital license plates. Our friendly team is ready to help, so contact us today to learn more about our community engagements.
---
Related Posts from Jaguar Newport Beach
Whether you're driving a couple out for a sushi in Irvine or you're taking a party to go whale watching in Newport Beach, Uber can get you there efficiently and affordably. If you're looking to get to your destination in style, Uber Black ought to be your go-to. Learn more about Uber Black. Then, learn which…

The Jaguar I-PACE offers an incredible all-electric driving range of 234 miles. But some folks in Costa Mesa and Orange have been asking us how to charge an electric car and the cost to charge an electric car. Get the answers to all your Jaguar I-PACE queries here at Jaguar Newport Beach in Newport Beach, CA. Jaguar Accessories Contact…

How do I check tire tread depth? How do I check tire tread wear? Don't worry – the process for checking bald tires isn't too difficult. Jaguar Newport Beach has the answers. You'll simply need a ruler; a penny you'd find on the sidewalks of Costa Mesa works, too. Find out more, or schedule service to entrust the experts….