How Often To Change Spark Plugs

Even if you're comfortable checking your car's oil and transmission fluid, you may be uncertain about how often to change spark plugs. In fact, one of the most common questions we receive from Irvine-area drivers is this one: When do I change spark plugs? Every 30,000 miles is a good rule of thumb, but various factors can influence how quickly your spark plugs wear down. Read the guide below from the Jaguar Newport Beach service team to learn how to tell when your Jaguar vehicle is due for a spark plug change.
When Do I Change Spark Plugs?
Spark plugs have an important job in your car's ignition system. After the ignition coil generates a voltage charge, the spark plugs are responsible for carrying that charge to the engine's combustion chamber — so that when you turn the key in the ignition, the chamber ignites and starts the engine.
"When do I change spark plugs to avoid problems while I'm out driving in Costa Mesa?" It's true that changing your spark plugs every 30,000 miles doesn't mean they won't wear out sooner. Check your owner's manual for a more specific interval and be sure to keep up with your Jaguar model's recommended maintenance schedule. Also, pay careful attention to the way your vehicle's performance. If you notice any of the following warning signs, schedule service to see if it's time to replace your spark plugs:
Misfiring engine
Poor acceleration
Rough-sounding engine
Decreased fuel economy
Rough noises during engine idling
Engine startup failure or slow engine start
Why Replace Your Car's Spark Plugs?
Timely replacement of your Jaguar vehicle's spark plugs helps to keep the ignition system healthy. You'll also enjoy your car's performance as it was meant to be, and experience benefits like:
Optimal Fuel Economy – Fresh spark plugs can restore lost fuel economy by up to 30%.
Optimal Reliability – Properly-functioning spark plugs help to keep combustion going in your engine, which means smoother operation while you drive.
Quick Ignition – Fresh spark plugs will fire up your car's engine right away, and you'll definitely notice the difference when you replace worn spark plugs.
Reduced Emissions – New spark plugs can help control harmful emissions and boost fuel efficiency.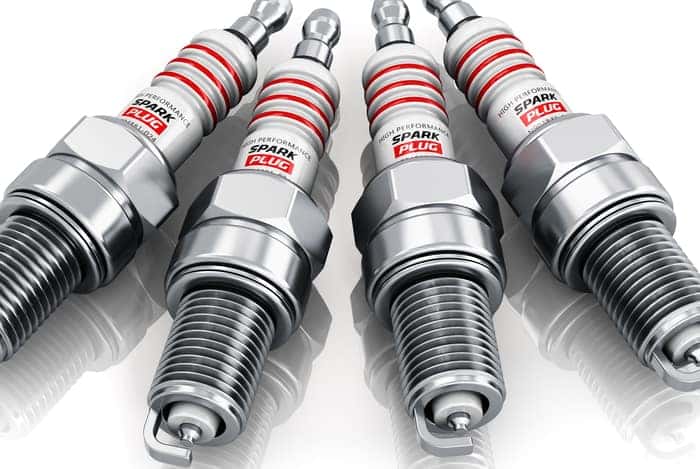 Rely on Certified Jaguar Technicians for Expert Spark Plug Service in Newport Beach
Are you having trouble starting your car engine and can't recall the last time you changed the spark plugs? How often to change spark plugs may also vary based on road conditions in Huntington Beach, as well as your driving habits. Expert technicians at Jaguar Newport Beach can help you diagnose any issues that arise as a result of worn-out spark plugs. Reach out to our team to learn more about auto maintenance topics like how to jump start a car, oil change frequency, changing your cabin air filter, and more.
More from Jaguar Newport Beach
While the 2023 Jaguar F-PACE is known to Irvine drivers for furious performance and luxurious features, it also features utterly elegant styling. Learn more about the style of the Jaguar F-PACE by exploring the 2023 Jaguar F-PACE color options. Then, see them for your self at Jaguar Newport Beach by applying for financing and scheduling a test…

Did you know that one of the Jaguar models can crank out up to 575 horsepower and up to 516 lb-ft of torque? It also sports 0-60 times as low as 3.5 seconds and top speeds as high as 186 miles per hour. There are two engines for Newport Beach drivers to choose from, each…

Jaguar has always been famous for creating stylish, attention-grabbing vehicles that combine sleek design details with powerful performance specs. But it's only very recently that they've expanded into the SUV market, allowing Irvine drivers to get that classic Jaguar style and power combined with the spaciousness and convenience of a larger SUV! The Jaguar E-PACE…