How to Wash a Car Like a Pro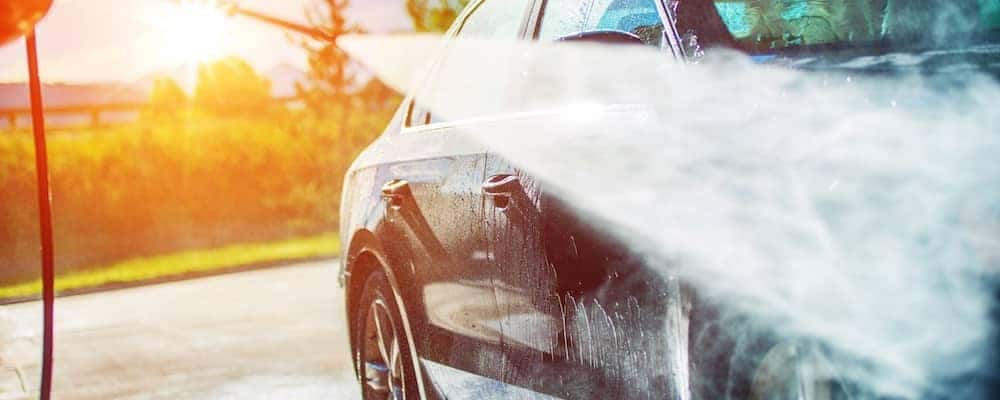 Most Irvine drivers consider car washing a chore that, aside from improving appearance, doesn't serve much of a purpose. That's not the case! Washing your car correctly helps preserve paint quality and overall appearance. Below, we've listed some of the basic steps, as well as tips on choosing the right materials and how often to wash a car. Read on to learn the ins and outs of how to wash a car, then check out our Newport Beach brunch recommendations!
Car-Washing: A Step-by-Step Guide
Follow these steps to keep your car's surface clean and protected:
Determine What's Needed: How much elbow grease are we talking? New cars or recently waxed and polished cars are usually fine with a wash and wax. Cars that haven't been washed in a while typically need more attention.
Start Washing: First, rinse your car to remove large specs of dirt to avoid scratching. Then, use car washing mitts and drying cloths to remove smaller contaminants.
Smooth the Surface: You can use a clay bar to gently remove bonded contaminants like tree sap, as well as a compound to smooth scratches beneath the surface. If you're applying compound, use applicator pads or a dual-action polisher, and be prepared to apply 2-4 coats.
Polish (If Necessary): Dual-action polishers work best when applying polish. The oils in the polish will give your car a sleek, glossy look.
Wax for Greater Paint Protection: Car wax protects your car's paint from UV rays and prevents fading. Wax is available in carnauba or polymer. Polymer is more expensive, but unlike carnauba, it doesn't haze and can be wiped off shortly after it's applied.
Cleaning Car Windows & Wheels
After you've cleaned the body of your car, use a cleaning solution specially designed for cars to clean the windows. Avoid anything with ammonia, like your typical blue glass cleaner, as ammonia can damage tinted windows. Once the windows are clean, move to the wheels. Use products that are designed for your car's wheels. If you're not sure what type of wheels your car has, play it safe with an low-strength, acid-free pH balanced aluminum wheel cleaner.
How to Wash a Car: Dos & Don'ts
Cleaning Supplies:
Don't use hand soap, dishwashing soap, or household glass cleaner. These cleaners will strip paint and wax.
Do use special car-washing products that won't damage your car's paint. Also, use a natural sponge or wool mitt for washing.
Washing:
Don't try to wash a hot car. The soap and water will dry too quickly, leaving unsightly spots on the surface.
Do create a heavy leather with the soap, and clean the sponge in fresh water throughout the washing process.
Drying:
Don't let a freshly washed car air dry. This causes watermarks.
Do use a soft chamois or soft terry towel to hand-dry the vehicle.
How Does Luxury Car Washing Differ?
Generally, there are no differences between washing a luxury car vs. a non-luxury car. Whether you own a Jaguar, or a vehicle from another brand, it's important to use the right soaps, washing materials, and wax. Additionally, knowing how often to wash a car is key. It's a good idea to make car washes part of your car's maintenance schedule. Experts suggest washing your car every two weeks, but you can slack off a bit if you don't drive often and your car is usually safe from the elements.
Keep Your Car in Peak Condition with Jaguar Newport Beach!
If you have more questions about how to wash a car, or general car care, contact us at Jaguar Newport Beach. Our service department can help you keep your vehicle looking and performing at its best. Looking to spruce up your car's appearance? Browse our available Jaguar parts and accessories!
---
Related Posts from Jaguar Newport Beach
Jaguar has always been famous for creating stylish, attention-grabbing vehicles that combine sleek design details with powerful performance specs. But it's only very recently that they've expanded into the SUV market, allowing Irvine drivers to get that classic Jaguar style and power combined with the spaciousness and convenience of a larger SUV! The Jaguar E-PACE…

 The 2023 Jaguar I-PACE is a beautifully sleek and sporty luxury car that provides an exceptional ride around Irvine, lots of outstanding features, and more. The 0-60 I-PACE speed is jaw-dropping, as well, so if you're looking for a car with plenty of torque that you can truly feel, this is the car…

2022 Model Shown The 2023 Jaguar I-PACE design, finely-crafted interior, and spacious dimensions have industry experts and consumers alike raving. Want to upgrade your Irvine drives? Visit our Newport Beach dealership to explore the new Jaguar I-PACE interior cabin and see firsthand how this premium electric car can enhance your driving experience. Apply for financing and…