How Do I Check Tire Tread Depth?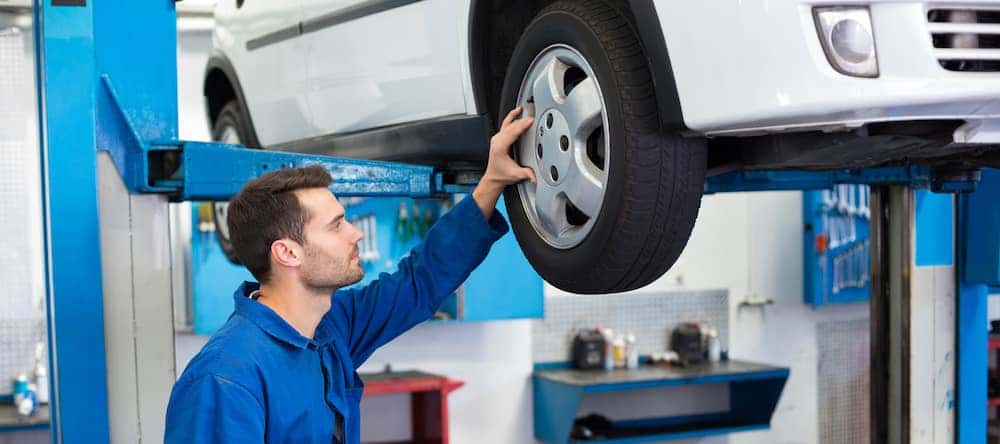 How do I check tire tread depth? How do I check tire tread wear? Don't worry – the process for checking bald tires isn't too difficult. Jaguar Newport Beach has the answers. You'll simply need a ruler; a penny you'd find on the sidewalks of Costa Mesa works, too. Find out more below, learn more about how long tires last, or schedule service to entrust the experts.
What's a Good Tire Tread Depth?
Good tire tread depth depends on the model or year of your Jaguar. The tread depth of new tires is usually between 10/32 to 11/32 of an inch – i.e., a third of an inch. Winter tires – most likely irrelevant for Costa Mesa drivers – have deeper tread grooves. Off-roading tires, too, have deeper tread grooves. This depth is a good tire tread depth. If the tires of your Jaguar reach 2/32 of an inch, it's time to replace your tires. Maintaining good tire tread depth is crucial to safe driving around Irvine.
How to Check Tire Tread Depth with a Penny
During routine maintenance every 5,000 miles, experienced technicians would be inspecting your tires for tread wear, and rotating the tires or replacing tires when needed. But if you want to keep monitoring this in between visits, there are a few easy ways to do this. While a ruler is perhaps the best way to check tire tread depth, a penny will do the trick. The design on a penny makes it a great device to measure tire tread wear. The steps are simple:
Insert a penny with Abe's head face first into the groove of your tires.
Observe if Abe's head is covered and no longer visible between the grooves.
Can you see Abe's face? If you can, that means your tire tread is 2/32 inches deep or less. Your tires could be bald. It's time to replace them.
Of course, you'll want to check tire tread depth with a penny for all four of the tires on your Jaguar.
Other Ways to Check Tire Health
There are special tools available in Huntington Beach to check your tires, such as a tire tread depth gauge, or tread wear bars that have a visible mark built into the tire which indicates the 2/32 inch mark. While you are checking your tire tread depth, some more things inspect include:
Tire pressure
Any visible tire damage
Tire rot or disintegration
Wheel alignment
Learn More Tire Care Tips at Jaguar Newport Beach!
When it's time to take your vehicle to your local service center for regular maintenance, our Irvine-area technicians will check your tires for wear or tear. When it's time to replace your tires, schedule service with us today.
---
Related Posts from Jaguar Newport Beach
How do I check tire tread depth? How do I check tire tread wear? Don't worry – the process for checking bald tires isn't too difficult. Jaguar Newport Beach has the answers. You'll simply need a ruler; a penny you'd find on the sidewalks of Costa Mesa works, too. Find out more below, learn more about how long tires…

Whether you drive an F-TYPE, F-PACE, or another model by the British automotive giant, Costa Mesa drivers can enjoy carbon fiber mirror covers and illuminated tread plates as upgrades to their Jaguar purchase. Learn more about Jaguar accessories here at Jaguar Newport Beach. Reviver Digital License Plate Have Any Jaguar Accessories Questions? Jaguar OEM Accessories Upgrade your Jaguar…

Most Irvine drivers consider car washing a chore that, aside from improving appearance, doesn't serve much of a purpose. That's not the case! Washing your car correctly helps preserve paint quality and overall appearance. Below, we've listed some of the basic steps, as well as tips on choosing the right materials and how often to…