2019 Jaguar I-PACE Dimensions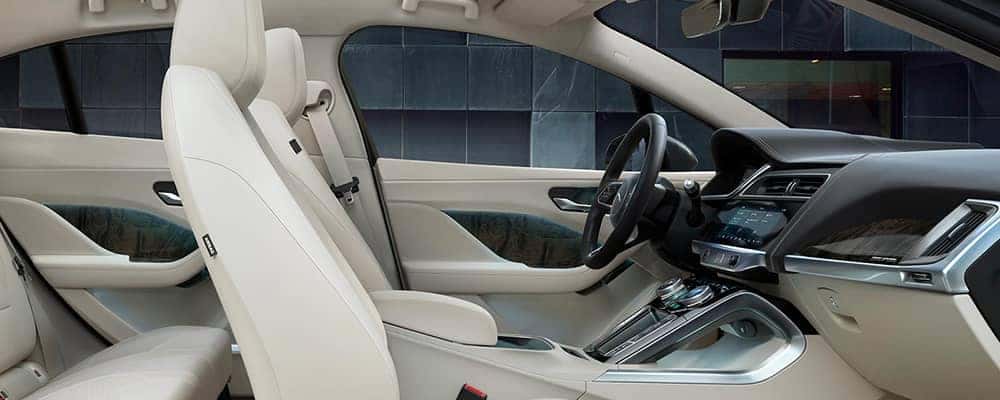 Award-winning and eco-friendly, the Jaguar I-PACE has dazzled critics and Irvine customers alike as the first-ever Jaguar electric SUV. While the refined technology and luxury features offer plenty of reasons to take a test drive, the Jaguar I-PACE dimensions also set this SUV apart from the crowd. Take a look at the interior and exterior dimensions to see how the new Jaguar I-PACE will fit into your life:
Exterior Dimensions
The Jaguar I-PACE certainly turns heads around the Costa Mesa area. The low stance, the sleek silhouette, the aerodynamic design, and the signature grille give the I-PACE that well-known Jaguar refinement with a modern touch. But the I-PACE also offers a terrific ride quality, agile and powerful, that you might not expect from an electric vehicle. Check out the Jaguar I-PACE dimensions below:
Height: 61.3 inches overall
Length: 184.3 inches overall
Width: 84.2 inches including mirrors
Wheelbase: 117.7 inches
Ground Clearance: 5.6 inches
Turning Circle: 39.3 feet
Interior Dimensions
spacious interior. That's because the twin electric motors take up less space than the traditional engine, leaving more room to stretch out and relax. This unconventional design also creates extra pockets for storage that you won't find on a gas-powered vehicle. Take a look at your passenger and cargo capacities below:
The I-PACE's unique engineering results not just in phenomenal fuel economy and eco-friendly performance, but also a
Seating Capacity: 5 passengers
Front / Rear Head Room: 39.9 / 38.1 inches
Front / Rear Leg Room: 40.9 / 35.0 inches
Front / Rear Shoulder Room: 57.6 / 54.6 inches
Cargo Capacity: 51.0 cubic feet
Console Storage: 0.43 cubic feet
Hood Storage: 0.95 cubic feet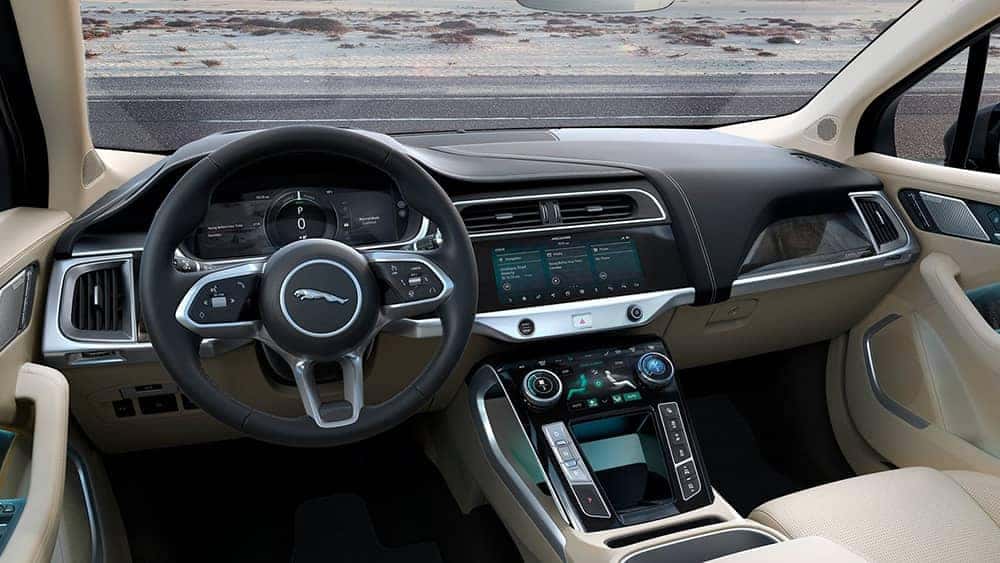 Get Behind the Wheel at Jaguar Newport Beach
You've read all about the Jaguar electric SUV, now why not take it for a spin in Newport Beach? Visit us at Jaguar Newport Beach to get behind the wheel or feel free to contact us with any questions. We're happy to explain the many perks of choosing an electric vehicle for the Costa Mesa area. From special offers to tax incentives and easily accessible charging stations, we think you'll be very impressed by the Jaguar green technology. Want more proof? Check out our Jaguar vs. Tesla comparison.
More About Jaguar I-PACE Features